3 Simple Ways To Naturally Whiten Your Teeth At Home.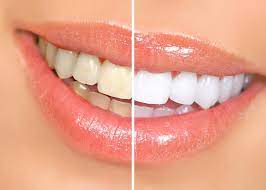 In this article, I will advise you on the best healthy ways to make your teeth super white at home without any chemicals.
We must first admit that when it comes to whitening your teeth, there is a wide range of options that one can choose but these are healthy ways that have worked out for many.
Some people buy most whitening chemical products, however, the use of chemicals to bleach the teeth is not as healthy as recommended by a health specialist, which many people are concerned about.
If you want whiter teeth but don't want to use chemicals, this article provides several natural and healthy choices.
1.Soda Bicarbonate.
You can brush your teeth with baking soda this is because it has whitening properties that is why most toothpaste products use it as a major ingredient. It acts by creating an alkaline condition in the mouth preventing the growth of bacteria responsible for yellow teeth. Regular use will be significant in whitening your teeth.
2.Fruits And Vegetables.
Eating fruits and vegetables is a good health remedy for whitening teeth because it will also be useful for your general too.
Blackberries and pineapples have been linked to being the best for teeth whitening.
3.Swishing Natural Oils In Your Mouth. (Oil pulling)
Natural oil like sunflower oil, coconut oil, or sesame oil when swilled in the mouth can be used to get rid of bacteria that are responsible for making your teeth yellow.
also remember to always brush your teeth this will also help in keeping your teeth white.